Terms & Conditions - SEO Experts Arizona
Nov 4, 2020
Services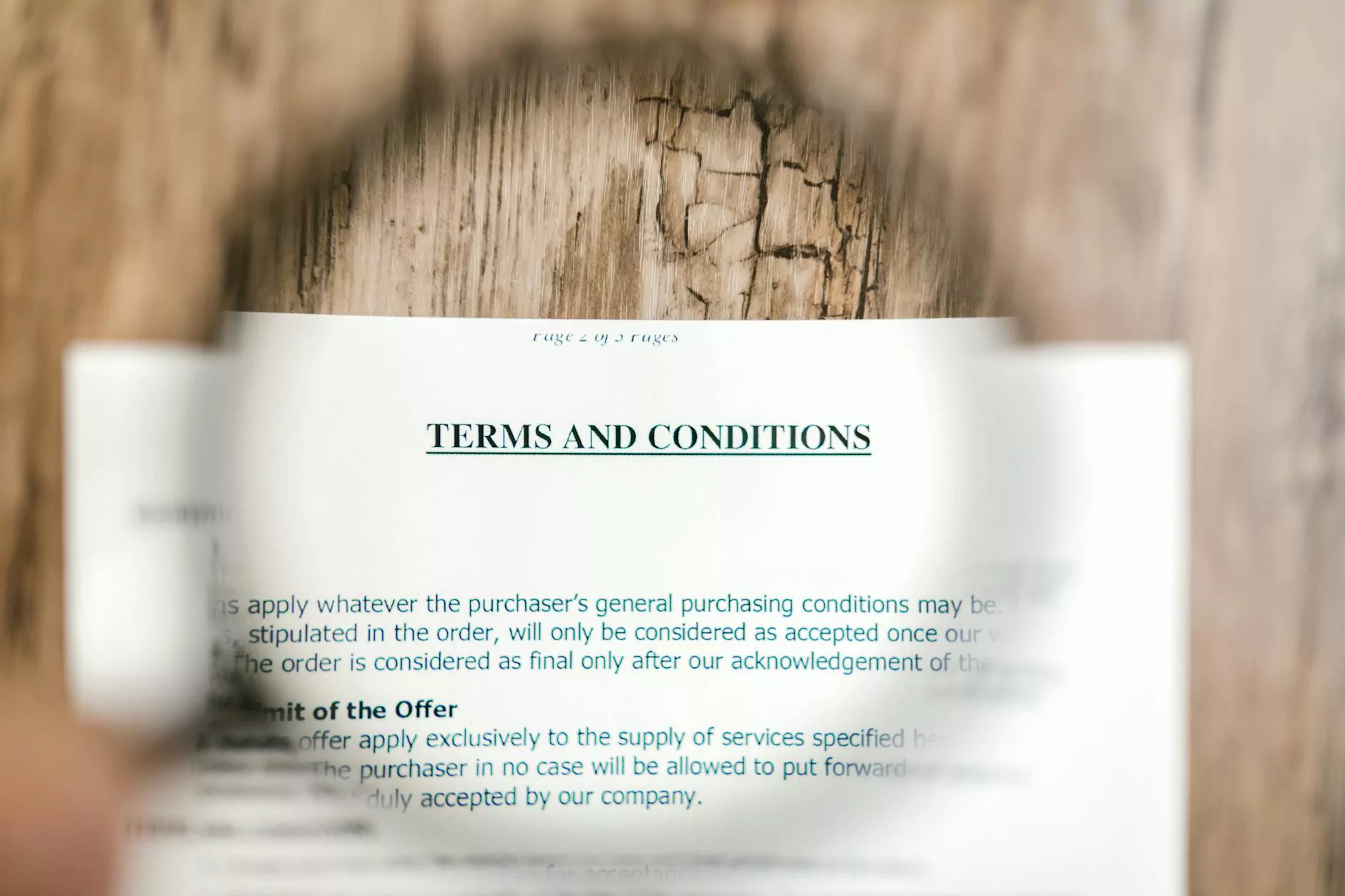 Introduction
Welcome to SEO Experts Arizona's Terms & Conditions page. Here, we outline the terms governing your use of our website and services. We are dedicated to providing exceptional digital marketing solutions within the Business and Consumer Services industry. By choosing to work with us, you agree to abide by these terms. Please read them thoroughly to gain a complete understanding of our policies and procedures.
1. Acceptance of Terms
By accessing or using the SEO Experts Arizona website, you acknowledge and agree to be bound by these terms and conditions. If you do not agree to any part of these terms, we kindly request that you discontinue your use of our website and services. These terms may be updated or modified from time to time, so we encourage you to review them periodically to stay informed.
2. Services Offered
SEO Experts Arizona specializes in providing high-quality digital marketing services within the Business and Consumer Services category. Our team of experts offers a wide range of solutions, including:
Search Engine Optimization (SEO)
Pay-Per-Click (PPC) Advertising
Social Media Marketing
Content Marketing
Web Design and Development
Reputation Management
We strive to deliver exceptional results for our clients, using comprehensive strategies tailored to their unique business goals. Our experienced team stays up-to-date with the latest industry trends and techniques to ensure the success of every project.
3. Privacy Policy
Your privacy is important to us. Please review our Privacy Policy to understand how we collect, use, and protect your personal information.
4. Intellectual Property
All content, including but not limited to text, graphics, logos, and images, displayed on the SEO Experts Arizona website is the property of our company and protected by applicable intellectual property laws. Unauthorized use of any materials may violate copyright, trademark, and other laws.
5. Limitation of Liability
SEO Experts Arizona strives to provide accurate and up-to-date information on our website but makes no warranties or representations regarding the accuracy, reliability, or completeness of the content. We shall not be held liable for any direct, indirect, incidental, consequential, or punitive damages arising out of your access or use of our website or services.
6. Governing Law
These terms and conditions shall be governed by and construed in accordance with the laws of the state of Arizona, without regard to its conflict of law provisions. Any legal action or proceeding arising out of or relating to these terms shall be exclusively brought in the state or federal courts located within the state of Arizona.
7. Contact Information
If you have any questions or concerns about our Terms & Conditions, please don't hesitate to contact us. Our dedicated support team is ready to assist you.
Thank you for choosing SEO Experts Arizona as your partner in digital marketing. We look forward to helping you achieve your business goals!